Product name : Shrek mascot costume

Product No. : AMF0167

Material : EVA foam with fur plush suit

Includes : head+body suit+gloves+shoes+cooling fan

Size : S/M/L/XL
Details: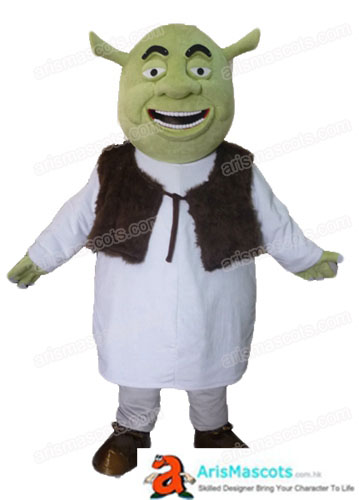 Size:
S: 160-170cm (5`3"-- 5`7"), 50kg-65kg (110lbs-140lbs)
M: 170-175cm (5`7"-- 5`9"), 60kg-70kg (130lbs-150lbs)
L: 175-180cm (5`9"-- 5`11"), 65kg-75kg (140lbs-165lbs)
XL: 180-185cm (5`11"-- 6`1"), 75kg-85kg (165lbs-185lbs)
This fun, lovable deluxe Shrek mascot costume makes you vivid and the material is quite comfortable. The mascot is shaped by environmental friendly foam all covered with plush with interior lining, fixed plastic helmet to stable and protect head. The sole of the feet part is made of water-proof, skip-proof durable materials. Minor size modifications can be made at no charge.
Shipping and Handling:
EMS is our preferred shipping method, Door To Door Delivery Service, we offer ship goods with DHL or UPS delivery service too with cost to be collected by receiver's account or pay before shipping

Insurance
Buyers are responsible for any insurance if it's required

Customs Duty or Tax
The mascot ship as " Gift " with declared value under usd50, any duty or tax occurced in imported countries are undertanken by buyer, please check with your customs for the policy before order

Mascot Cleaning
Dry cleaning mascot costume is not recommended. The chemicals used in the dry cleaning process may damage certain components of the mascot costumes
1. Foam head, body and feet have to be cleaned by hand or with a wet vac, damp cloth, clean any spots on the mascot. portable stain removers, such as shout wipes, are handy for small stain emergencies, the sooner any stain is treated, the easier it will come out.
2. Machine wash the mascot outfits only with one layer, in WARM water with mild laundry detergent on a gentle cycle.
3. Tumble dry the mascots on a NO or LOW HEAT dryer setting only. The fabric of the mascot costumes can be damaged if the dryer settings are too hot. Hanging the costume to dry in a well ventilated area is another option.
4. Lightly brush any fleece areas. Be sure to be extremely careful not to damage the fibers.
5. Brush out the fur areas with a brush

Mascot Tips
Before you wear a mascot costume to give a performance, be sure to follow below mascot tips and tricks to assure that your mascots get the most impact:
1. The mascot wearer should be of reasonable strength and stamina. The mascot costume is bulky and will get very warm while worn.
2. T-shirt is best to wear under the mascot costume. The wearer should drink plenty of liquids before and after the event
3. The mascot costume should be worn without shoes.
4. Be sure to have a dress rehearsal, becoming comforabtle in the mascot costume before the event will insure the best performance.
5. Hydrate yourself with water and snack on a few pretzels or potato chips before the event, especially in warm temperatures. Sweat causes you to lose water and sodium, which contributes to uncomfortable leg cramps and can make you feel faint. The salt provided by the snack infuses additional sodium into your system, and the water keeps dehydration at bay.
6. Although our mascots comes with small cooling fan,we strongly recommand cooling vest and gel packs with only a little charges for mascot ventilation in hot weather.
7. Move cautiously at all times. Mascot headgear limits your visibility, a child can be standing at your feet and out of your field of vision.
8. Portray a friendly attitude at all times. The mascot is an icon, and poor behavior by the mascot wearer can reflect negatively on the sports team or business it represents. Wave to passersby, and offer a handshake to anyone who comes close to you
9.The operator must never be seen out of mascot costume in a public place. They must continue to perform as the characters until out of public view
10.The maximum time recommended to wear a mascot costume, followed by a break of at least 15 minutes in order to avoid exhaustion is no more than 30 mins.

Durability
With proper care and cleaning a mascot costume should last 3 or 4 years depending on use. If a mascot is used 2 or 3 times a week we suggest a second costume be purchased so that you can always have a clean costume. Alternating costumes also extends the wear. Your logo can be added on the mascot, you can send us your artwork for custom or just tell us a brief idea about mascot costumes you want to have, useful suggestions would be offered based on our years of experience, amendment on the standard product to suit your needs available

Feedback
Firstly thanks for your support to our shop, we are striving to improve ourselves in terms of service, quality, sourcing, etc. It would be highly appreciated if you could leave us a positive feedbak, which will be a great encouragement for us. Please contact us before leaving any negative or neutral feedback, we will work with you to solve any problems.

A lightweight, durable, professional quality mascot costume that lasts for years! What makes this mascot unique is its patented softhead construction technique which allows for a realistic look and attention to detail so important in today s mascots. The softhead design also allows for this mascot costume to be very lightweight and breathable, which in turn extends the wearing time of the costume by reducing fatigue. It also offers greater mobility which allows for better interaction with the crowds! with lovely and funny images, a mascot costume can instantly attract people's attention to your movement, exhibitions, promotions and big events. They will increase your brand value and affinity in an easily approachable way.Mascot costumes can be used by Entertainers, Theme Parks, Exhibitions, Kids Wonderlands, Pedestrian Streets, Church Organizations, School, Product Promotions, Sports Team, Openings, Wedding Ceremonies, Kindergartens and Public Events.

Contact us today for a variety of costumes! for custom mascot costumes, cartoon character mascot costumes, cheap mascot costume,team mascots, school mascot, advertising mascots, funny mascot costumes, animal mascots, people mascot costumes, vegetable and fruit mascot, cartoon mascots, mascot party, mascottes, mascotas, costumes and mascots, deguisement mascotte,Costume de mascotte, mascota,Maskottchen-Kostüm,Disfraz de mascota, mascot materials, mascot cleaning, mascot tips