Inflatable Brown Bear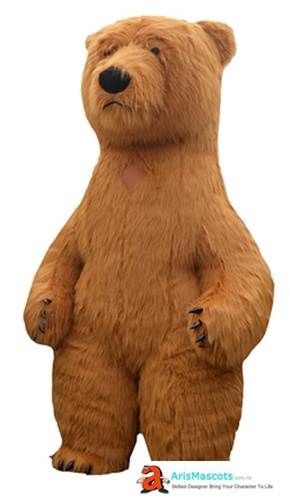 Material: PVC material with long hair velvet coating
Size: 2m(6'6'') / 2.6m(8'5'') / 3m(9'8'')
Includes: one piece of suit+ air blower+vest
Package
: 55cm x 55cm x 55cm (22''x 22''x 22'')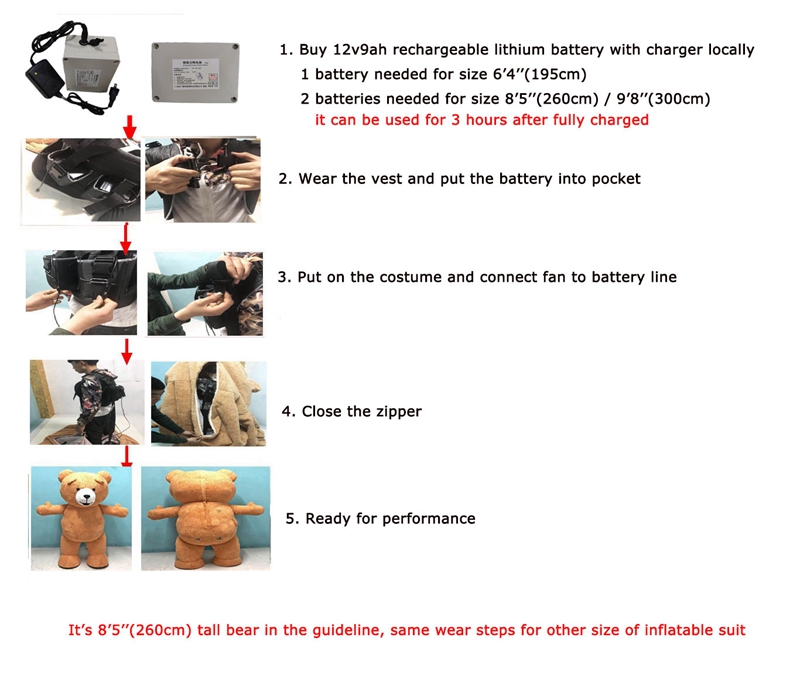 This fun, lovable inflatable Teddy Bear mascot costume makes you vivid and the mascot material is quite comfortable. The mascot is shaped by long hair velvet all covered with PVC interior lining, comes with three different sizes, custom size available too

Shipping and Handling:
EMS is our preferred shipping method, Door To Door Delivery Service, we offer ship goods with DHL or UPS delivery service too with cost to be collected by receiver's account or pay before shipping
Insurance
Buyers are responsible for any insurance if it's required
Customs Duty or Tax
The mascot ship as " Gift " with declared value under usd50, any duty or tax occurced in imported countries are undertanken by buyer, please check with your customs for the policy before order
Durability
With proper care and cleaning a mascot costume should last 3 or 4 years depending on use. If a mascot is used 2 or 3 times a week we suggest a second costume be purchased so that you can always have a clean costume. Alternating costumes also extends the wear. Your logo can be added on the mascot, you can send us your artwork for custom or just tell us a brief idea about mascot costumes you want to have, useful suggestions would be offered based on our years of experience, amendment on the standard product to suit your needs available
A lightweight, durable, professional quality mascot costume that lasts for years! What makes this mascot unique is its patented softhead construction technique which allows for a realistic look and attention to detail so important in today s mascots. The softhead design also allows for this mascot costume to be very lightweight and breathable, which in turn extends the wearing time of the costume by reducing fatigue. It also offers greater mobility which allows for better interaction with the crowds! with lovely and funny images, a mascot costume can instantly attract people's attention to your movement, exhibitions, promotions and big events. They will increase your brand value and affinity in an easily approachable way.Mascot costumes can be used by Entertainers, Theme Parks, Exhibitions, Kids Wonderlands, Pedestrian Streets, Church Organizations, School, Product Promotions, Sports Team, Openings, Wedding Ceremonies, Kindergartens and Public Events.
Contact us today for a variety of costumes! for custom mascot costumes, cartoon character mascot costumes, cheap mascot costume,team mascots, school mascot, advertising mascots, funny mascot costumes, animal mascots, people mascot costumes, vegetable and fruit mascot, cartoon mascots, mascot party, mascottes, mascotas, costumes and mascots, deguisement mascotte,Costume de mascotte, mascota,Maskottchen-Kostüm,Disfraz de mascota, mascot materials, mascot cleaning, mascot tips